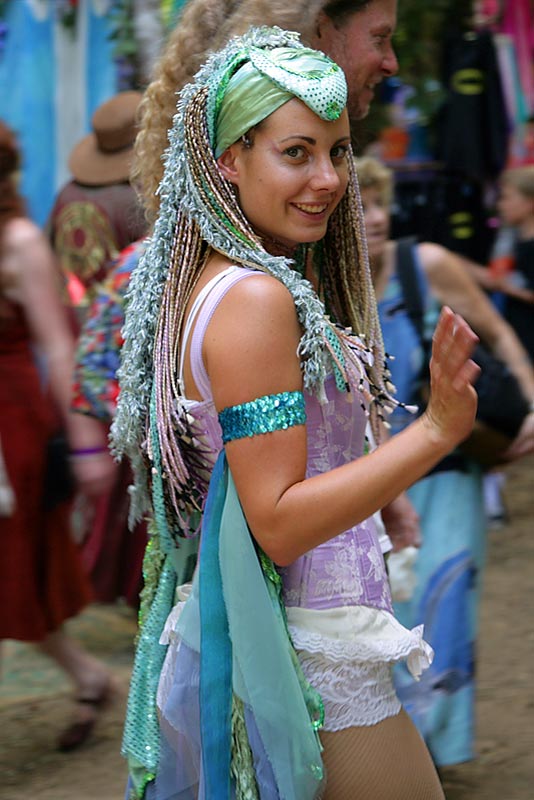 Random OCF Attendee
Since I'm confined to the house for a few days, it seems like an opportune time to write a bit and share some plans for the summer shooting season. I'm good at planning my shoots, and I can generally stick to the plans allowing for some deviations for creative flexibility. Good planning helps me stay on track for my projects, and I leave some latitude in the scope of the shoot so that I'm not constrained so much I can't take the shoot in a different direction if the creative flow takes me there.
My wife, Wanda, will be gone for about three weeks this summer on a visit to our family in Arizona, so I'll probably be shooting at least a few projects during that time frame, including at least a day at the Oregon Country Fair. The OCF is an event that I routinely shot for about 5 years, but I haven't gone in the last couple of years due to family commitments. I'd like to get back there this year just for some general people photography, as there are always interesting costumes, presentations, music and people at the fair. It may also be a good opportunity to pass out some of my business cards to get paying clients for some of my photographic specialties.
I'll also be shooting quite a bit more of my Military Glamour project this summer. This is a subset of my Barefoot Glamour project, but with an emphasis on a military flavor with the costumes and props. Several of my regular models have expressed an interest in working on this project with me as it gives them a different look for their portfolio. This is also a good genre for new clients as it gives a person an opportunity to have a sexy shoot done for their military boyfriend or husband.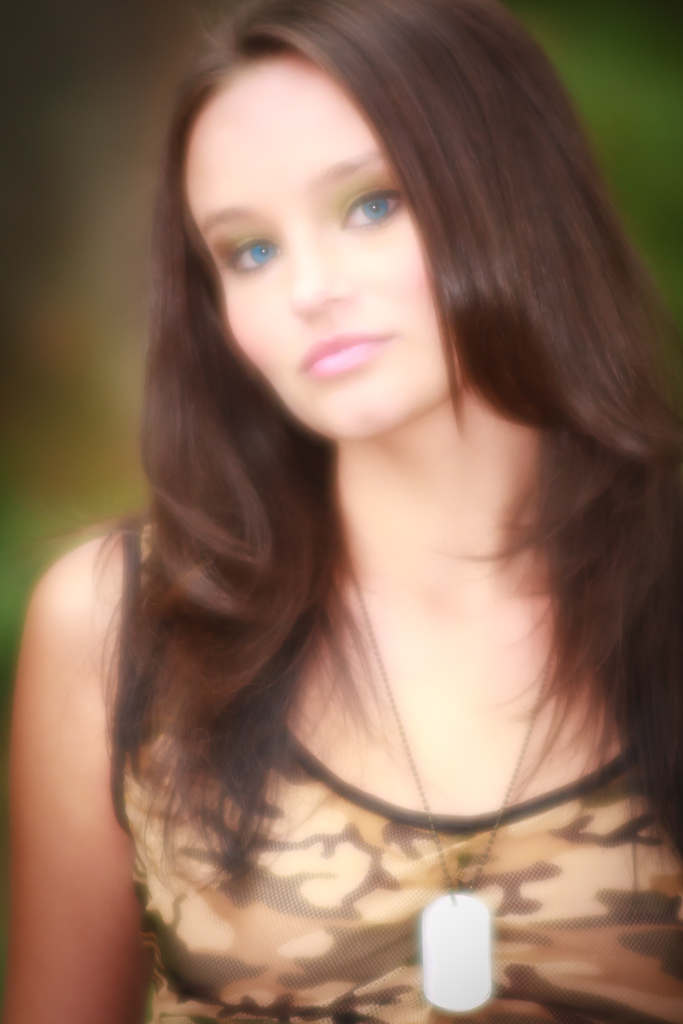 April in Soft Focus
These shoots are also quite fun, as they are logistically easy to set up, shoot, and post-process and that means I can concentrate more of the creative aspects of the shoot: the composition, the lighting, and posing the model. Since I have a variety of military themed outfits and props, there's very little expense in the shoot for me or the model. Now, if I could only find a costume like Christina Aguilera wore in her video,
Candy Man.
Another theme I want to explore this season, is Steampunk. I haven't actually shot any images using the style yet, but I've been researching the costumes and props and it seems like it will be fun to both shoot and design. I know of some good outdoor locations to shoot and I've compiled a list of props that should be fairly easy and inexpensive to acquire. A number of models have already expressed interest in shooting this with me, and several of them are very creative with their costuming ability, so there is the opportunity for even more variety in the shoots, from very sexy to almost Victorian prudishness.
There are several more projects in the works as well and they're all quite different from what I've shot in the past. I also want to try some concepts that I've considered in the past, but haven't taken the time to attempt - light painting, random faces, abandoned nudes, and fabric suspension. I may not get to try them all, but I at least have a list of concepts from which to work. I certainly hope to have a fun and creative summer with my photography and with my family.