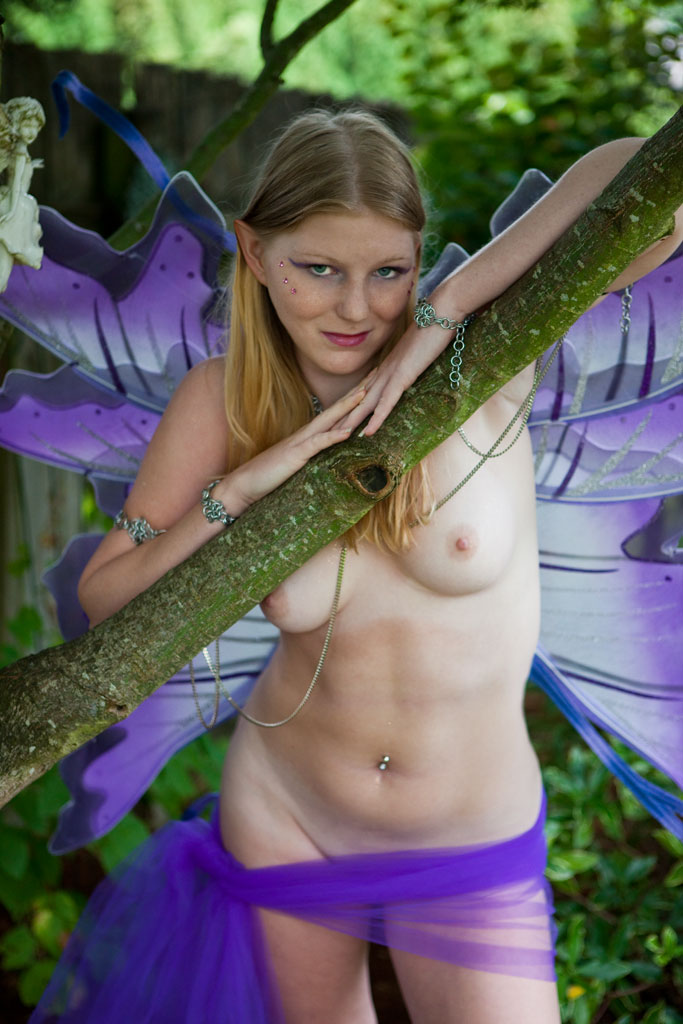 I enjoy shooting in the summer. College is usually on break and the high school graduates are in that halcyon period between then end of high school and the beginning of college when their worries are few and their dreams are great. It's during this period that I generally work with a number of new models eager to try modeling for both fun and, they hope, profit. Usually, I'm always willing to work with new models trying to establish or expand their portfolios, and I especially enjoy working with ones who are on top of their game and who meet their commitments and come prepared to get the best images from the shoot.
So far this week, I've had the opportunity to work with two such models. The first new model, Miranda was to be my Rain Fairy. Our plan was to shoot in my backyard during the early morning hours so as the catch the morning sunlight on falling drops of water from an oscillating sprinker which would look likes streaks of rain falling on the model. I had a full shoot plan with costumes, wings, and filmly white material to use for shoot. The model called the night before to confirm the shoot and get directions to my house, sent me her address and a copy of her ID so I could have the model release ready to go prior to the shoot, and she arrived 30 minutes early and eager to shoot. I was ready, the model was not only ready but happily eager, on the other hand, the sun was no where to be found. A thick layer of clouds hung in the sky and diffused the sun'a light to a weak, soft, and nearly shadowless version of summer sunshine.
The diffused soft light would have been great for a beauty and glamour shoot, but we needed strong sunlight to back light the falling water and produce the silver streaks that would fall on he model. So, we quickly had a conversation, discussed some changes, and improvised a new shoot using the same location but with a different concept,
So out went the white wings, white material, white tule, white crystal face jewels and light blue sheer material that was our main costume materials for the shoot, and we quickly put together an outfit of purple, green and pink materials, purple wings, and silver body chains. The model was quite willing to go with the changes, and we had a great time winging the shoot. The image above, quickly edited this afternoon, is representative of that fun.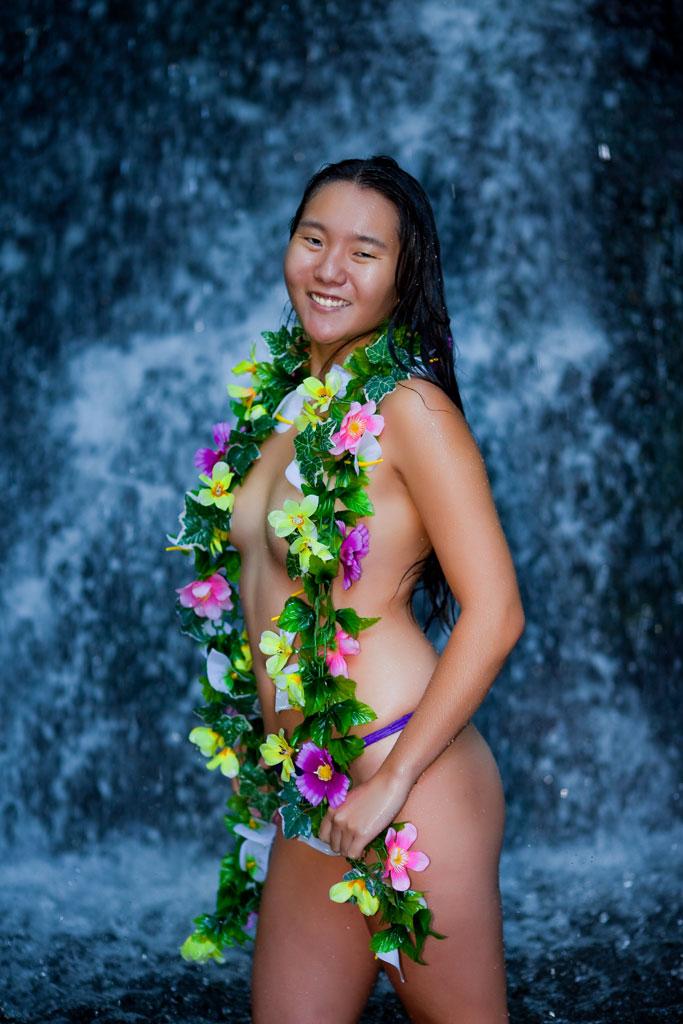 An even more invigorating shoot occurred this afternoon. While I was in California over the weekend for my granddaughter's 1st birthday, I was contacted via my blog (this blog in fact), by a lovely young Pacific University student who was interested in my projects, and was especially intersted in my ongoing Barefoot Glamour project. We agreed to meet for a cup of coffee on my return and to discuss a potential shoot.
We therefore met for a coffee and a chat on Tuesday evening. I let Cathy peruse the photos in my portfolio and made sure she was comfortable with my style and my work and offered her the available times I had to shoot for the next several days. She was quite happy to get started shooting right away, so after my morning meetings this week, I took the afternoon off and we drove out to the Tillamook Waterfall to shoot. We discussed the clothing and the materials that we'd use for the shoot and had a decent shoot plan going in to the shoot.
Cathy was a fun and adventurous model. She easily met any request I had for her with regard to poses, and even walked deep into the pool at the base of the waterfull to submerge herself to her shoulders and then slowly rise from the waters while getting heavily sprayed from the falls. None of my previously models had been willing to do that. It was a fun shoot with lots of great images, and I think Cathy enjoyed the shoot just as much as I did. I hope I get a chance to shoot a few more times with this lovely young ladie.