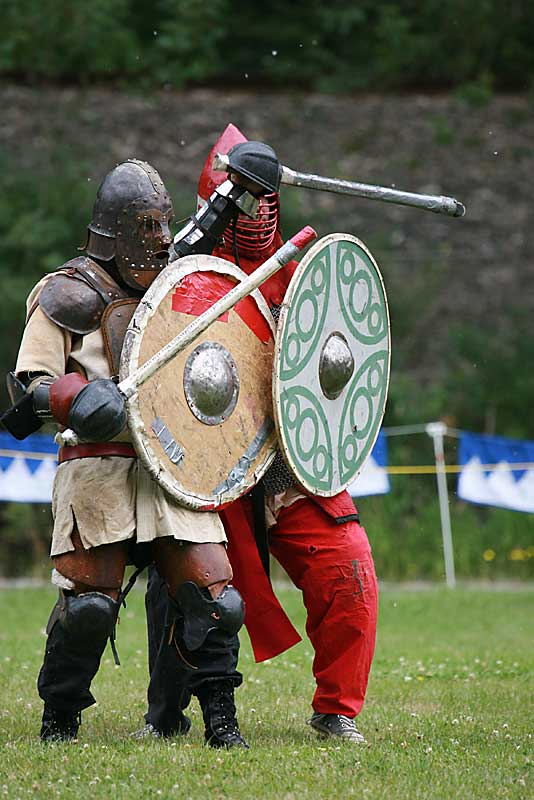 I finally got back out of the house to shoot this weekend. I drove up to an SCA event just north of here to visit with some friends and do some photography. It was a rather small event, but fun to shoot.
Several friends of mine are members of the SCA and they invited us up to camp with them, but unfortunately Wanda wasn't feeling too well, so we had to decline. We did make the attempt to go together on Saturday, but she couldn't stand the twisty ride to the site, so I wound up going alone.
The event was held at a park where the old Trojan Nuclear Power Plant used to be. It's a very lovely park right on the Columbia River and several nice ponds and fields on the grounds. It was a very good site for the event. The only drawbacks were the mosquitoes, which weren't too bad while I was there during the day, but I imagine they were much worse at night, and the continuously flying fluff from the cottonwood trees that surrounded the site. The fluff as so bad that at times it almost looked like it was snowing in July. If you look carefully at the photo to the left, you'll see some of it in the air around the fighters.
The event centered mainly on combat between armored groups, though there were a number of other smaller activities on the schedule. I hung out for the afternoon, watched some of the events, visited with some friends, and then called it a day. It was nice to get out of the house, but I sure wish I had been able to take Wanda with me.